Learn French at Nantes Université
French Language Courses
The Institut de Français Langue Étrangère (i-FLE), part of the University Language Learning Centre offers several long and short term French courses for all proficiency levels:
The minimum age is 18. For full-time semester courses only, candidates must have a high school diploma (A-level or equivalent).
Other French Courses
French Language Certificates and Tests
i-FLE is a test centre for 2 official French language certifications:
The DELF and the DALF, approved by the French Ministry of Education

The TCF and the DAP-TCF (required for first and second year undergraduate admission), approved by the French Ministry of Education
DELF B2 preparation course
Our centre offers a 6-week online preparation course (18 hours) to get ready to take the DELF Diploma
For further information and dates
Certification in other languages
Certification is available in German, English, Chinese, Spanish, Italian and Portuguese. It is based on the Common European Framework of Reference for Languages (CEF). The expected level is either intermediate or independent level (B2). Certification is a requirement for some Graduate or Undergraduate students.


Preparing and learning an additionnal language
The Language Learning Centre organises preparation courses and general language course each semester to help you prepare for foreign language exams. The classes are optional. They help you to become familiar with the tests which, in turn, will improve your chances when you take the test.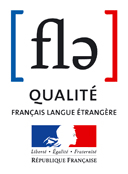 Contact
Le Service Universitaire des Langues - Institut de Français Langue Étrangère
Grand Hall - Accueil - Bâtiment 3
Chemin de la censive du tertre
BP 81227 44312 Nantes CEDEX 3
Information and registration
Visit our website for more information on
our website

Find us
Maps and directions

Contacts
All our contacts
Mis à jour le 15 May 2023 - Tatiana SOLDATOVA.